Globe on Tour's Hamlet
The performance is played in English language and has its own rules for cancellation in case of bad weather.
Two and a half hours of Shakespeare's most famous drama and one of the most famous plays in the history of theatre will be performed on the 25th and 26th of June as a part of the world tour of London-based Shakespeare's Globe, the company preserving the tradition that was started more than four hundred years ago by the famous playwright himself.


Shakespeare's inexhaustible opus magnum about Danish prince Hamlet, who comes back home after the death of his father to find his mother married to the murderer, Hamlet's uncle, installed on the Danish throne through the marriage, comes alive in the production of Shakespeare's Globe as a drama of betrayal and revenge, violent action and philosophical reflection as well as tragic depth and gallows humour. The performance which received worldwide positive reviews (e. g. The New York Times, The Daily Telegraph) will present its tragic characters in two evenings of the 25th and 26th June in the beautiful courtyard of Supreme Burgrave's House in Prague Castle.
"We will take Hamlet on a brain-defying logistics-confounding tour of every country in the world. Yes, all of them. I am delighted that we have been able to secure the astonishing renaissance venue in Prague Castle. This would not have been possible without the collaboration of the vibrant Prague Shakespeare Company and we hope to continue our joyous conversation with the company for years to come," says Dominic Dromgoole, the artistic director of Shakespeare's Globe.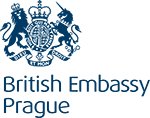 William Shakespeare
Hamlet - Globe on Tour's
Directed by
Dominic Dromgoole
Bill Buckhurst
CAST
HORACIO / LAERTES / ROSENCRANTZ / GUILDENSTERN