HISTORY
Summer Shakespeare Festival is oldest and biggest open-air theatre festival of this kind in Europe.
Original show of William Shakespeare plays, introduces under open air in time honoured scenes of PRAGUE, BRNO´s, and BRATISLAVA´s and newly also SILESIAOSTRAVA´s CASTLE, continue also in the year 2009. This year are shows presenting also in Košice, and on two stages in Prague: together with the traditional stage at Supreme Burgrave´sHouse of Prague Castle are plays of Shakespeare performed also at courtyard of Lichtenstejnsky palace, in domicile of Faculty of Music, Malostranském náměstí 13 – Small town square No.13.
Event signal for conception of the festival came from president VÁCLAV HAVEL. He called upon the artist of the beginning of the nineties, to attract widest public to the Prague castle. One of the enterprise, which settled down here since 1994 for good is Summer Shakespeare Festival hold in time honoured space of Supreme Burgrave´s House. Václav Havel supported Summer Shakespare Festival by his personal patronage in years 1999 and 2000.
By his patronage supported Summer Shakespeare Festival in 2004 also current president Václav Klaus. Since 2005 the Summer Shakespeare Festival actively cooperate also with the Endowment fund of Livia and Václav Klaus.
One of the biggest supporter of Summer Shakespeare Festival is major partner of the festival PPF group. Domestic company standing on the tip of the Czech financial market supports the festival the ninth year. Thanks to initiative of PPF the theatre meeting spread to even prestigious photography exhibitions and generous charitable enterprises (benefit show for help after the floods in 2002, special projects tu support deaf children, productive artists in troubles etc.).
To existence of Summer Shakespeare Festival once reacted even Buckingham palace: by personal letter prince Charles expressed his interest about continuing to hold the festival. Important role in organization of the Summer Shakespeare Festival have its traditional cosponzors – Administration of Pragues Castle and Capital city Prague.
AGENTURA SCHOK, spol. s r.o. is organizer of Summer Shakespeare Festival since 1998. Under the management of AGENTURA SCHOK the festival increased unprecedently in quality and scope of introduced plays.
About high reputation of the festival speaks hot interest about tickets, record number of visitors (up to 87.000 for a season) and complete level of the show, displayed in unusual medial publicity and appreciative criticisms. During the summer take place more than 140 shows and open-air auditorium of capacity 600-1000 seats is regularly occupied. Enterprise with yearly first appearance of Shakespeare plays established during its existence to be an event, which the culture public can´t leave unnoticed.
Not rely only on long term reputation and continually try to be atractive for theatre-goer to surprised him is by the way exactly what Summer Shakespeare Festival will always try to do in spite of clearly determinate repertoire. We beleive, that The Merry Wives of Windsor directed by Jiří Menzel with Bolek Polívka as Falstaff and Simona Stašova as merry Lady Pažoutova will be worth to see – take a seat and watch The Merry Wives of Windsor and of course the other plays with us.   
For AGENTURA SCHOK, the traditional organizer of Summer Shakespeare Festival
Michal Rychlý, director
HISTORY OF THE FESTIVAL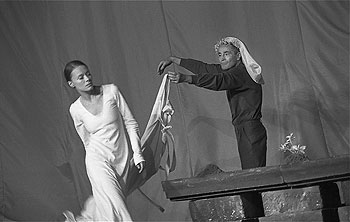 © 2009 AGENTURA SCHOK, spol. s r.o., Praha